Personal Stories: Historic Peace Churches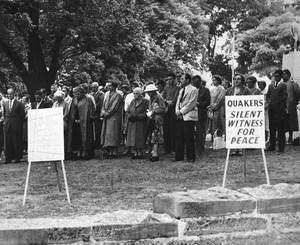 The term Historic Peace Churches applies to those Christian churches that historically have had as part of its doctrine non-participation by its adherents in war. Three churches commonly included are The Society of Friends (Quakers), Exclusive Brethren and Jehovah's Witnesses. The Quakers remain a very strong peace church but today more emphasis is placed on discernment by an individual concerning their own conscience. Brethren have always permitted their adherents to serve as non-combatants but not as combatants. The Seventh Day Adventist Church also permits its members, whose personal conscience allows, to serve in a non-combatant role. Jehovah's Witnesses remain steadfast in their neutrality against all war and serving in any military capacity. Others churches adopt other positons.
Graham Roberts was a Member of the Society of Friends based in Hobart. In court on 20 April 1966 he provided a written statement that his conscience did not allow him to take up arms against any person no matter to what country, class or creed that person belonged to. He further stated that he could not participate in the preparation of war in any way, for it is essentially the training of young men to take the lives or cause suffering to their fellow human beings. He was granted full exemption from military duties by Stipendiary Magistrate Bingham. Graham was the first total exemption to be granted in Tasmania under the 1964 National Service Act (NSA).
Noel Edgar Collett was a member of the Exclusive Brethren and an early conscientious objector. His beliefs were based on Christian pacifism to all war. He was a farm labourer from Nambour Queensland. Noel could have expected his application for exemption from combatant duties to be granted as he was a member of an historic peace-church. It was dismissed in its entirety in the lower court by Magistrate Loane in August 1965 and then on appeal at the District Court in Brisbane in November 1965. Noel made a second application to the Court of Petty Sessions at Nambour on 4 April 1966 which was heard by the same magistrate (Loane) as the original application. The magistrate ruled he had no jurisdiction to hear a second application. Noel appealed to the High Court during August 1966 and in a split decision (three to two) it was ruled that the lower court could hear a second application for exemption from combatant duties. Noel indicated that his beliefs had not changed but had been strengthened since the first application. The magistrate agreed and granted his application for exemption from combatant duties.
Richard John Pettitt was from Corrimal in New South Wales. He was a Jehovah's Witness who lived and worked on the Watchtower Society's Kingdom farm at Ingleburn where a great deal of his time was explicitly directed to religious activities. His case for full exemption appeared to be a strong one. He was able to demonstrate he was a committed member of a religious group that doctrinally opposed their adherents serving in the military in any capacity. However, his application was dismissed. On appeal Judge Brennan at the Wollongong District Court granted Richard a full exemption on 13 March 1968. Richard had informed the judge that he would choose to be jailed rather than be forced into the army, and that he was opposed to serving in both a combatant and non-combatant role.