Background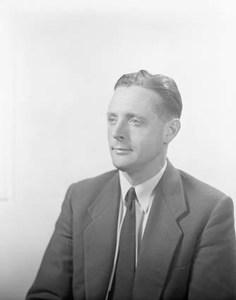 James Ford (Jim) Cairns was the chief exponent of the case against Australia's intervention in the Vietnam War and the human face of the protest movement that mobilised in the second half of the 1960s to oppose that involvement. The apogee of that leadership came at the first Moratorium demonstration in Melbourne on 8 May 1970.
Born in October 1914 in the shadow of the outbreak of World War One, Cairns was rescued from an uncertain employment future in the Depression-era when he joined the Victoria Police. Though a diligent officer, he intellectually outgrew the police force by the early 1940s and enrolled in part-time studies at the University of Melbourne. At the end of World War Two, Cairns gained a foothold in academia. Becoming politically active, many of the issues that became emblematic of his public life date from that time: opposition to the White Australia Policy, advocacy of international cooperation, especially engagement with Asia, and support for civil liberties. He also began his involvement in the peace movement.
Cairns' intensifying political engagement culminated in him winning the seat of Yarra (based on Richmond) at the Labor 'split' election of December 1955. Courageous of conviction, a compelling debater and possessing a quiet nobility of bearing, over the following decade Cairns emerged as the standard bearer of the Labor left. By the mid-1960s, he was the only serious rival to Gough Whitlam as pretender to Arthur Calwell's leadership of the party.